Crimson Dawn, Limited Edition Print
Item Code: ELM003
Limited edition print of just 750 copies, personally signed by Larry Elmore, 19 by 28 inch, shipped rolled in tubes.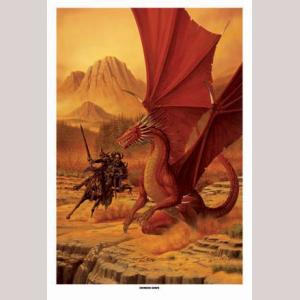 The miniatures are not pre-painted!
All items come in bare pewter metal.
Assembly required on some figures.
Some sets contain small parts.
Not suitable for children under 14 years of age.
Our Recommendation:
These miniatures are also based upon the artwork "Mountain Conflict" by Larry Elmore:

Image
Description
Price
Cart
Female Archer - Mountain Conflict
DSM1135


In Stock:

(stock may drop shortly)

11,99 €



Add to Cart

Male Wizard - Mountain Conflict
DSM1136


In Stock:

(stock may drop shortly)

11,99 €



Add to Cart

Fighter - Mountain Conflict
DSM1131


In Stock:

(stock may drop shortly)

11,99 €



Add to Cart

Green Dragon - Elmore Dragons Set # 1
DSM6001


In Stock:

(stock may drop shortly)

79,99 €



Add to Cart

Mountain Conflict, Limited Edition Print
ELM001


In Stock:

(stock may drop shortly)

35,00 €



Add to Cart

Dragon Slayers And Proud Of It, Limited Edition Print
ELM002


In Stock:

(stock may drop shortly)

35,00 €



Add to Cart

Thru The Dragon Pass, Limited Edition Print
ELM004


In Stock:

(stock may drop shortly)

35,00 €



Add to Cart

Castle of Deception, Limited Edition Print
ELM005


In Stock:

(stock may drop shortly)

35,00 €



Add to Cart
Similar Models:

Image
Description
Price
Cart
Boar/Wolf Beast
DSM1227


In Stock:

(stock may drop shortly)

11,99 €



Add to Cart

Nightmare Beast from "Prince of the North"
DSM1228


In Stock:

(stock may drop shortly)

11,99 €



Add to Cart

Hot Lead - 3 DVD Tutorial Set
DSM-DVD01


In Stock:

(stock may drop shortly)

49,99 €



Add to Cart

Alexi Z: Miniature Painting Secrets (4 DVD Set)
DSM-DVD03


In Stock:

(stock may drop shortly)

59,99 €



Add to Cart

Masterworks Miniature Painting w/ Marike Reimer (4 DVD Set)
DSM-DVD06


In Stock:

(stock may drop shortly)

59,99 €



Add to Cart

Feather Wings Combo Pack
DSM7803


In Stock:

(stock may drop shortly)

9,99 €



Add to Cart

Leather Wings Combo Pack
DSM7802


In Stock:

(stock may drop shortly)

9,99 €



Add to Cart

Mountain Conflict, Limited Edition Print
ELM001


In Stock:

(stock may drop shortly)

35,00 €



Add to Cart

Dragon Slayers And Proud Of It, Limited Edition Print
ELM002


In Stock:

(stock may drop shortly)

35,00 €



Add to Cart

Thru The Dragon Pass, Limited Edition Print
ELM004


In Stock:

(stock may drop shortly)

35,00 €



Add to Cart

Castle of Deception, Limited Edition Print
ELM005


In Stock:

(stock may drop shortly)

35,00 €



Add to Cart
35,00 €


Add to cart

In Stock:

(stock may drop shortly)