Masterworks Miniature Painting w/ Marike Reimer (4 DVD Set)
Item Code: DSM-DVD06
This is 4 DVD Set with over 13 hours of instruction! In rnaddition, we have some fun slideshows and inspirational galleries on thern DVD for your viewing pleasure.
rn
Marike will demonstrate how she creates her legendary smooth blends, rnamazing female skin tones, faces/eyes, freehand patterns, sheer fabrics rn(this module is jaw dropping folks), crutter skin tones/fur, critter rneyes that pop, Non Metallic Metals (NMM), Object Source Lighting (OSL), rnand so much more. This comprehensive 4 DVD set will bring you up to rnspeed on how to achieve impressive results and further enhance your rnminiture painting skills. rnClick here for a Youtube Video Trailer of this DVD set!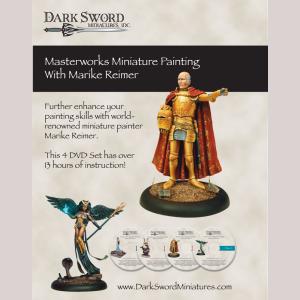 The miniatures are not pre-painted!
All items come in bare pewter metal.
Assembly required on some figures.
Some sets contain small parts.
Not suitable for children under 14 years of age.
Our Recommendation:
Similar Models:

Image
Description
Price
Cart
Boar/Wolf Beast
DSM1227


In Stock:

(stock may drop shortly)

11,99 €



Add to Cart

Nightmare Beast from "Prince of the North"
DSM1228


In Stock:

(stock may drop shortly)

11,99 €



Add to Cart

Hot Lead - 3 DVD Tutorial Set
DSM-DVD01


In Stock:

(stock may drop shortly)

49,99 €



Add to Cart

Alexi Z: Miniature Painting Secrets (4 DVD Set)
DSM-DVD03


In Stock:

(stock may drop shortly)

59,99 €



Add to Cart

Feather Wings Combo Pack
DSM7803


In Stock:

(stock may drop shortly)

9,99 €



Add to Cart

Leather Wings Combo Pack
DSM7802


In Stock:

(stock may drop shortly)

9,99 €



Add to Cart

Mountain Conflict, Limited Edition Print
ELM001


In Stock:

(stock may drop shortly)

35,00 €



Add to Cart

Dragon Slayers And Proud Of It, Limited Edition Print
ELM002


In Stock:

(stock may drop shortly)

35,00 €



Add to Cart

Crimson Dawn, Limited Edition Print
ELM003


In Stock:

(stock may drop shortly)

35,00 €



Add to Cart

Thru The Dragon Pass, Limited Edition Print
ELM004


In Stock:

(stock may drop shortly)

35,00 €



Add to Cart

Castle of Deception, Limited Edition Print
ELM005


In Stock:

(stock may drop shortly)

35,00 €



Add to Cart
59,99 €


Add to cart

In Stock:

(stock may drop shortly)