Alexi Z: Miniature Painting Secrets (4 DVD Set)
Item Code: DSM-DVD03
This comprehensive 4 DVD set from CMON and Alexi Z has over 13 hours of instructional video on it.
Natalya Melnik is the winner of two Golden Demon Slayer Swords, countless Golden Demons and most recently the 2010 Privateer Press Grand Master Painter.

Please note - this is a DVD set that will take intermediate level painters to the next level. If you are looking for a DVD set that will take you all the way from basic/new painter to an intermediate/advanced level, The Hot Lead DVD set is still the best tutorial set money can buy.
Example footage can be found here.
Format: Multi-region DVD, NTSC, viewable on PC and Mac computers with DVD players, viewable on DVD players and televisions that support NTSC, total Length: 13+ hours
English and Russian Soundtrack/Language Options, Menus in English.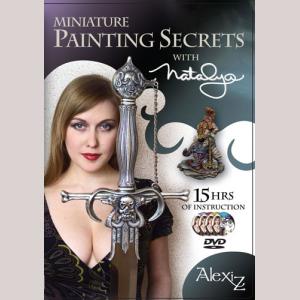 The miniatures are not pre-painted!
All items come in bare pewter metal.
Assembly required on some figures.
Some sets contain small parts.
Not suitable for children under 14 years of age.
Our Recommendation:
Similar Models:

Image
Description
Price
Cart
Boar/Wolf Beast
DSM1227


In Stock:

(stock may drop shortly)

11,99 €



Add to Cart

Nightmare Beast from "Prince of the North"
DSM1228


In Stock:

(stock may drop shortly)

11,99 €



Add to Cart

Hot Lead - 3 DVD Tutorial Set
DSM-DVD01


In Stock:

(stock may drop shortly)

49,99 €



Add to Cart

Masterworks Miniature Painting w/ Marike Reimer (4 DVD Set)
DSM-DVD06


In Stock:

(stock may drop shortly)

59,99 €



Add to Cart

Feather Wings Combo Pack
DSM7803


In Stock:

(stock may drop shortly)

9,99 €



Add to Cart

Leather Wings Combo Pack
DSM7802


In Stock:

(stock may drop shortly)

9,99 €



Add to Cart

Mountain Conflict, Limited Edition Print
ELM001


In Stock:

(stock may drop shortly)

35,00 €



Add to Cart

Dragon Slayers And Proud Of It, Limited Edition Print
ELM002


In Stock:

(stock may drop shortly)

35,00 €



Add to Cart

Crimson Dawn, Limited Edition Print
ELM003


In Stock:

(stock may drop shortly)

35,00 €



Add to Cart

Thru The Dragon Pass, Limited Edition Print
ELM004


In Stock:

(stock may drop shortly)

35,00 €



Add to Cart

Castle of Deception, Limited Edition Print
ELM005


In Stock:

(stock may drop shortly)

35,00 €



Add to Cart
59,99 €


Add to cart

In Stock:

(stock may drop shortly)